Celebitchy
Archives: Teri Hatcher
Teri Hatcher in a bikini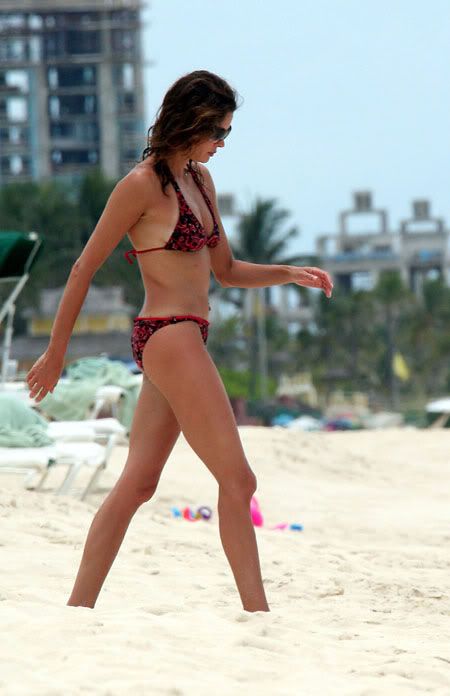 Sorry for all the semi-nude female celebrities today. I'm in a hurry and am filling up on pictures rather than leave you with fewer posts brimming with my bad insight.
Teri Hatcher doesn't have delusions of grandeur like Eva Longwhoria. She says that "Desperate Housewives" is her "dream job" and that she isn't trying to make the move to the big screen:
Teri Hatcher has laughed off reports she is planning to ditch Desperate Housewives to pursue a career in movies because she insists the hit series is her 'dream job.' The TV beauty was thrilled to have been offered the part of Susan Mayer on the primetime soap.
She says, "Apparently there was a rumor going around about me wanting to leave 'Desperate Housewives' to do movies. It's not true. I had to laugh because 'Desperate Housewives' is my dream job. I couldn't have a better-suited role for me to play.
"I work with people I like and respect. I have a seven-minute commute. I have plenty of time to spend with my daughter. And it's as steady a job as Hollywood can offer. Why would I mess with any of that?"
It's pretty smart of her to realize where her bread and butter come from.
She looks like she ditching the anorexic look that is so last season and has gained a few essential pounds. It's hip to be fat now, and stars like Victoria Beckham are in denial.
Pictures [via]
Photos
|
Teri Hatcher
Teri Hatcher spills her guts on Oprah (update: video)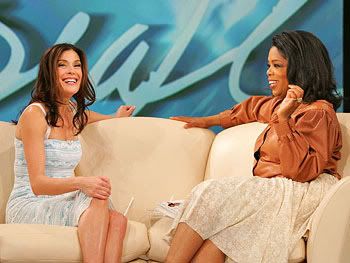 I want to dislike Teri Hatcher, I really do. In fact before I read the synopsis of her interview on the Oprah site I had the opinion that the woman can't snap out of her crybaby routine. After reading what she said and getting an idea of what she went through, I have to say that it kind of touched me. I hope that she can get some therapy and realize that she has it pretty good now and that the past is behind her.
She talked a lot about her childhood abuse and how painful the situation was. She also said that Ryan Seacrest dumped her after a couple of dates, and made it sound like she actually bought into the situation:
In March 2006, she was photographed kissing American Idol host Ryan Seacrest on a secluded beach. Oprah wants to know…what's the deal with that?
"It's such a non-story" Teri says. "All the things you read in the tabloids about me and men are really non-stories."
Teri says she and Ryan were set up by a mutual friend, and after two group dinners, they met for a lunch date at an out-of-the-way location. "Interestingly enough, I haven't seen him since that day," she says. "We knew that the [pictures] had been taken, which must have bothered him enough. An hour after he dropped me off, he called to say, 'I don't think I can do this with you.'"
She denied dating Clooney at all, and said that she only went on one date with him. She also said she doesn't use botox and talked about the fake hair and boob tape that everyone uses to look better on the red carpet.
She looks pretty bad in recent pictures so maybe she doesn't use botox and that's the problem. As for her relationship with Clooney, I really doubt that they only had one date. There were all sorts of rumors about that. Still, now that I discovered quotes from a personal trainer about Katie Holmes that were completely made up, I have a lot less faith in the gossip industry.
Hatcher has a new memoir out, called "Burnt Toast," in which she chronicles her sad love life. She reveals that she didn't have sex with her second husband on her honeymoon, and they only had sex once in the year her daughter was conceived.
Hatcher says she's now looking for love and wants lots of sex. As we pointed out earlier, this is not the way to go about it, but at least it will sell books.
Here she is on Oprah. There's a short video clip for the show on the Oprah website. (This is up as of today, May 3rd, and may be removed shortly)
Update: Video segment where Teri discusses the Ryan Seacrest situation.






Good Causes
|
Oprah
|
Teri Hatcher
Teri Hatcher wants your pity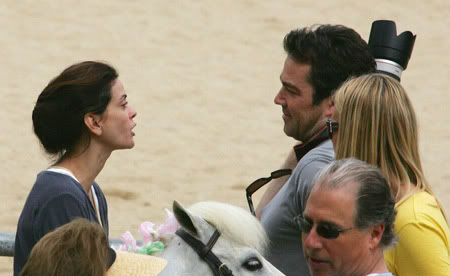 Every relationship advice book I read when I was single said that the best way to get guys is to live it up, have a great time, and not act like you're desperate. You're supposed to date more than one guy, not open up too soon, and make them chase you. The way Teri Hatcher is going, she's going to be single for a while or she's going to end up in a lame codependant relationship.
She told her story about being violated by her uncle as a child in a partial bid to get back at George Clooney for not changing his stripes to stay with her for more than a month. Now she's going to release a memoir chronicalling her sad love life.
* Her second marriage, to actor Jon Tenney, held on for nine years, but was so devoid of passion they didn't even make love on their honeymoon. Hatcher claims to know exactly when their 8-year-old daughter, Emerson, was conceived, because she and Tunney "had sex once that year, on Valentine's Day." A rep for Tunney didn't return a call by deadline.
* After their divorce in 2004, Hatcher set off on "a parade of bad dates." There was a handsome millionaire who was "already in a long-term relationship with cocaine." There was a freak obsessed with prostitutes. And there was a "creepy lawyer" who offered her "$50,000 to go to a convention with him. Like an escort!..."
"If I thought getting divorced was going to open up an arena of endless sexcapades, I was wrong," she says. "I never thought I'd be [over] 40 and have no one to go to dinner with, nor someone who loves me and whom I trust, but here I am. Sad but true."
Meanwhile Teri injured her eye on the set of Desperate Housewives after a lightbulb exploded, scratching her cornea. She sounds rather sorry for herself in her statements about it:
"I was taken to a wonderful eye doctor, and now am wearing a most glamorous eye patch over the right half of my face.
"I like to look at the positive, and the good news is the cornea is the fastest healing tissue in the body.
Teri - this is not the way to get men! You have to fake it until you make it. Please cheer up and look at the positive. Some people still think you're sexy, but your attitude just ruins it.
Here she is with her daughter and ex husband at a horse event two days ago. [via] The guy must realize that he dodged a bullet.





Teri Hatcher
|
Weak
Teri Hatcher cries while giving a speech about her childhood abuse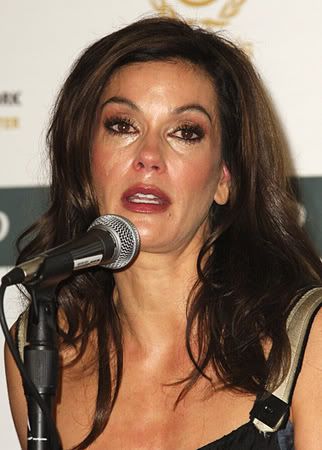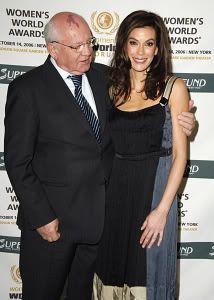 Teri Hatcher broke down and cried at a press conference in Beverly Hills yesterday. She cohosted the press conference with former Soviet leader Mikhail Gorbachev to announce the 3rd annual Women's World Awards. Gorbachev seemed more interested in her breasts than what she was saying.
Hatcher got emotional when talking about the sexual abuse she suffered as a child:
"Recently I had the honor, really, of being able to come forward and help raise awareness of some violence against women..."
She was referring to a recent Vanity Fair interview in which she said she was molested by her uncle when she was 5 years old and living in Sunnyvale. When she learned in 2002 that a 14-year-old victim of her uncle had committed suicide, Hatcher approached Santa Clara County prosecutors.
After Hatcher came forward, the uncle, Richard Hayes Stone, pleaded guilty to four counts of child molestation in the case of the 14-year-old victim and received 14 years in prison.
"There are many women who suffer with these traumatic experiences their whole lives, and they keep those things a secret," Hatcher said, her eyes welling with tears. "They spend some of their lives feeling that the fault of things that have happened to them was something that they caused.
"These experiences ... leave us with a choice, a choice to use our experiences to enlighten and empower and change people's lives, and that is a choice I am getting behind."
You can hardly blame her for crying, and it's brave of her to speak out. We were going to point out that she looks like Janice Dickinson here, but considering the sensitivity of the topic that would be cruel.
Three more pictures after the jump.
Continue reading "Teri Hatcher cries while giving a speech about her childhood abuse" »
Posted to
Emotional
|
Good Causes
|
Photos
|
Teri Hatcher
Teri Hatcher: I'm not with Ryan Seacrest and it was a publicity stunt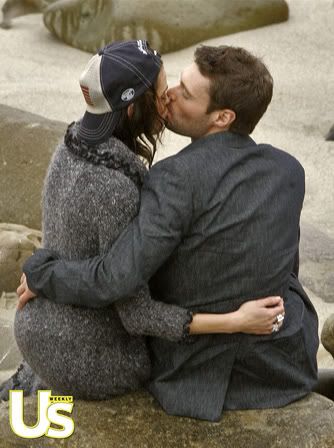 In a move we never saw coming, Teri Hatcher has said that she's not with Ryan Seacrest. I made up the part about her admitting that it was a publicity stunt. Hatcher was at the Comedy for a Cure benefit for Tuberous Sclerosis on April 2nd and found a business card for a singles dating service in one of the purses she donated for auction. She joked about its meaning, saying it signifies that she's still single:
Everyone clearly knows about my pathetic, single, dating life right?!"
In response to recent photos that were captured of Hatcher and the American Idol host kissing and reportedly dating, she said, "Well, I guess what's caught on film is caught on film and it would be hard for me to stand here and say that it wasn't me. I'm not a liar and I wouldn't do that, but I could say that I could still use the business card!" When asked if she was attached to Seacrest, she added, "I'm not."
She skirted the question by saying "she's not a liar" and wouldn't "say that it wasn't me" but still maintained that she's single. That's a strange way to deny that you're with someone. If it didn't work out between the two of them, wouldn't she say "We were looking for different things?" In fact, she could have used that excuse anyway!
Seacrest was seen on Saturday taking in a basketball game with Hatcher's costar, Eva Longoria. The two cheered on Longoria's boyfriend, at the Spurs game in San Antonio, TX.
Posted to
Breakups
|
Ryan Seacrest
|
Teri Hatcher
Comedy for a Cure Benefit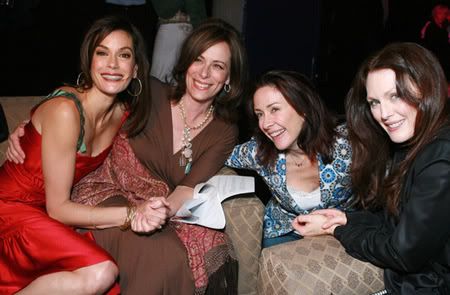 The fifth annual "Comedy for a Cure" benefit for The Tuberous Sclerosis Alliance was held last night in Hollywood. Attending stars included Julianne Moore, Teri Hatcher, Sarah Silverman, Jimmy Kimmel, Jane Kaczmarek, Patricia Heaton, and Marissa Jaret Winokur. Royal asshole Billy Bush served as master of ceremonies.
Calista Flockhart was also supposed to serve as a host, but does not seem to have shown up since there aren't any pictures of her.
A little more about the disease Tuberous Sclerosis:

Tuberous Sclerosis is a devastating disease that causes seizures, autism, mental retardation, kidney failure, lung failure and worse. There is currently no cure. The Tuberous Sclerosis Alliance is the only national organization dedicated to finding a cure for tuberous sclerosis while improving the lives of those affected.
The event featured live auctions and comedy. Teri Hatcher even sat on a winning bidder's lap.
12 more pictures after the jump.
Continue reading "Comedy for a Cure Benefit" »
Posted to
Good Causes
|
Julianne Moore
|
Photos
|
Teri Hatcher
Starlight Starbright Foundation honors Dakota Fanning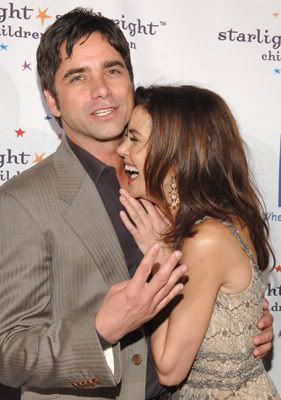 12 year-old actress Dakota Fanning received the "Heart of Gold Award" last night at the annual gala held by the Starlight Starbright Children's foundation. Fanning was honored for her "commitment to helping others." Jamie Curtis hosted the event. Attending stars included erratic Teri Hatcher, John Stamos, Bob Saget, Alicia Silverstone, and Elly and Mike Godard.
Dakota Fanning
|
Photos
|
Teri Hatcher
Ryan hatches a beard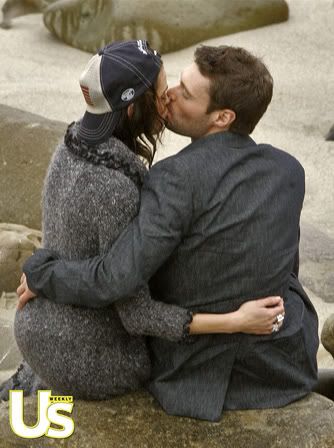 Teri Hatcher and Ryan Seacrest were photographed making out on a Malibu beach. Teri Hatcher doesn't seem dumb enough not to be in on the joke, although she did expect Clooney to stick around and then used her painful past to get back at him, so she's not that bright overall. Still, she can't be as delusional as Zellweger, and chances are that she's getting something out of this other than bad publicity.
An eyewitness says Hatcher and Seacrest were "very animated" which is code for "very bad actors":
"The were immersed," says an eyewitness, who noticed Hatcher massaging Seacrest's neck. "Every now and then, they'd embrace."
"Teri frequently laughed loudly at Ryan's jokes," says an onlooker. "They were very animated with each other."
Here are the pictures of Hatcher and Seacrest making out that will be published in this week's US Magazine.
And here's a video of Seacrest flirting with Anderson Cooper on CNN. Cooper tells Seacrest that his big tie "works for him." Then Seacrest points out that Cooper's tie is "tiny and mine is huge." "I've heard that often," Cooper responds. Ow!
Posted to
Hookups
|
Ryan Seacrest
|
Teri Hatcher
|
Video
George Clooney needs to go to therapy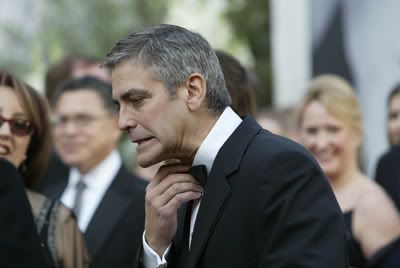 George Clooney is such a fucking cad. When you're 25 and you sleep around it's expected. When you're almost 45 and have never had a long-term, commited relationship you have a serious, debilitating problem.
Clooney is a typical example of a man who has too many choices and is too weak to pick one and stick with it. He can bang the hottest or the horsiest woman in Hollywood, it doesn't matter to him as long as he doesn't have to deal with her shit.
Of course both Clooney and Hatcher have denied Page Six's report that Clooney was the "mystery man" referred to in the Vanity Fair article:
"It is to Teri's credit that she's telling a very courageous story to help others," Clooney says. "As for the tabloid part of the story, she would never say that. I know the story is attractive but it isn't true and it takes away from her brave decision."
Hatcher also responded to the newspaper's claims. "It is truly a shame that the importance of the issue in the Vanity Fair article is being obscured by tabloid sensationalism," Teri says. "[The paper] has twisted this story into a scandalous report about my personal life, which has nothing to do with George Clooney."
Please. This story is so obvious that there's no need to issue the obligatory denial.
Here is Clooney in NY on March 9th filming "Michael Clayton." Hopefully the staff on the film teased him mercilessly for treating Teri Hatcher like garbage.
Four more after the jump.
Continue reading "George Clooney needs to go to therapy" »
Posted to
George Clooney
|
Movies
|
Sluts
|
Teri Hatcher
Teri Hatcher had no idea Clooney was a womanizer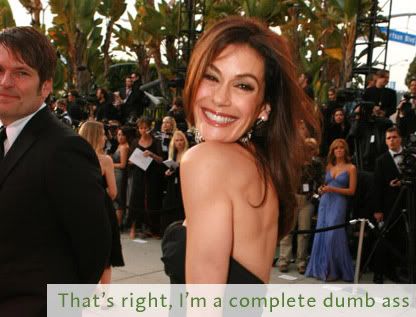 George Clooney has a long-standing reputation as a complete asshole when it comes to women. They only thing constant in Clooney's life is his potbellied pig, and even the pig
is on the outs
.
That's why Teri Hatcher is a fool for falling for her handsome neighbor after only a few weeks of dating. Page Six reports that Hatcher told her sad tale of childhood abuse in an erroneous attempt to share her pain at getting dumped by Clooney:
The magazine reports the unidentified star who bedded and dumped Hatcher left her so emotionally shattered that she could no longer keep from talking about her evil uncle.
"Mystery Man" was none other than Clooney, a well-placed source tells Page Six. He dated Hatcher briefly beginning in January, when we first reported they'd gotten cozy, but he dropped her soon after.
"The debacle with Mystery Man . . . made the parallels between her romantic failures and the legacy of her sexual abuse seem too obvious to ignore," Vanity Fair's Leslie Bennetts writes.
Teri, you dumb ass, you can't change men. It's also really, really lame to try to get a guy's attention by being weak and needy. That's why they leave in the first place. We all did this at one point in our dating careers, but Hatcher is old enough to know better than to make such a calculated and public mistake.
Posted to
Breakups
|
George Clooney
|
Teri Hatcher
|
Weak
Teri Hatcher brought her abuser to justice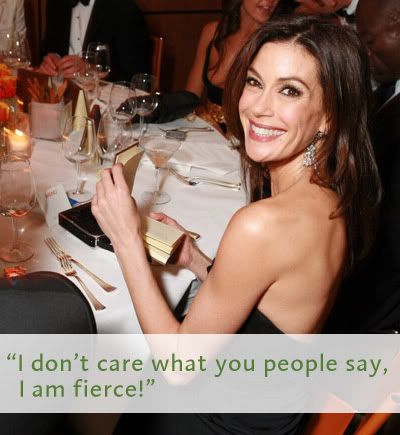 Ok, now I feel bad for ragging on Teri Hatcher and have to say that I hope I look that good at 41. In the latest issue of Vanity Fair, Hatcher reveals that she was abused at age five by an uncle. The uncle was later convicted thanks to Teri's statement to police testimony in another molestation case. Unfortunately, the victim committed suicide:
The 41-year-old actress says she learned in 2002 that a 14-year-old victim of her uncle had committed suicide. Concerned that he would escape charges of molestation, Hatcher approached the prosecutors.
"This is something I've tried to hide my whole life," Hatcher tells the magazine...
"I have so much pain," she says. "I'm a woman who carries around all these layers of fear and vulnerability. I'm trying to be my powerful me."
Teri testified went public with her story even though her career was languishing and she faced being called an attention hound by the press. You go, Teri. Even though Clooney is hot, he's damaged goods and a womanizer so please pick someone who will treat you right. Also work on smiling normally at future events.
Update 3/10: Page Six reports that Hatcher went to police with her story, but did not testify in court.
Posted to
Teri Hatcher
Why do people bother trying to keep up with Clooney's love life?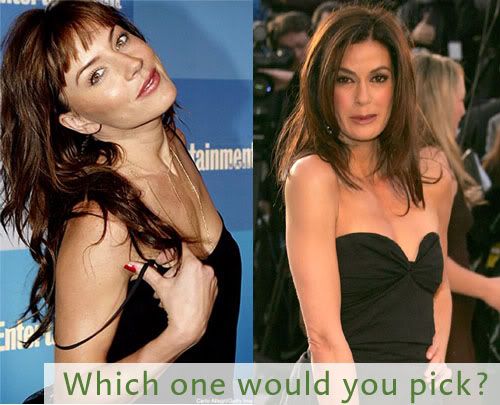 George Clooney had an intimate dinner with his ex, hottie Krista Allen, the night before the Oscars. In just the past month, Clooney has been spotted with Renee Zellweger and was supposed to be dating his neighbor Teri Hatcher. Why gossip columns even try to keep up with Clooney's love life is puzzling. His publicist is funny as usual:
When asked if reports of the pre-Oscar dinner with Allen were true, Clooney's rep told The Scoop, "I wasn't with him that evening, so I don't know."
Clearly Hatcher was busy getting ready for the Oscars and Clooney just couldn't bear to be alone.
Posted to
George Clooney
|
Hookups
|
Krista Allen
|
Teri Hatcher